Ray's top 10 milestone moments at FiMT – the top three
In his last week at FiMT, Ray Lock has been sharing his top 10 significant moments during his time as Chief Executive. Here are the top three.
As we say farewell to our founding Chief Executive Ray Lock, he's been reflecting in his own words on the 10 most significant moments in his 8 1/2 year tenure, which we have been counting down this week. You can read 10-4 here, the moments which didn't make the list here and the final 3 below.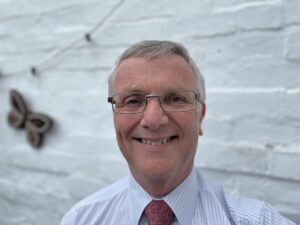 I've enjoyed looking back over the last 8½ years and I've definitely missed plenty of more impactful moments. I've also had to leave out the many conversations I've had with various well-intentioned leaders across the public, private and voluntary sectors over the years whose undertakings have yet to fully bear fruit.
But this list is meant to be my top 10 most memorable. So here we go.
#3 – Sector Insight 2014.
When I started out in 2012, we shared an office, a Chair (as in person rather than for sitting on) and an executive assistant with Cobseo – the Confederation of Service Charities. Cobseo produced an annual hard copy directory of its members. It also ran an AGM and the first one I attended had an interesting (an understatement) guest speaker. Debra Allcock Tyler, Chief Executive of the Directory of Social Change gave a keynote speech that probably had more effect on my approach to my role than any other single moment. It also marked the start of a relationship which has brought such a richness of thought to our work as well as my own personal development. We hatched a plan.
Instead of Cobseo producing a directory, FiMT should take on that responsibility, but make it much, much more. This was to be an on-line directory, but it would also be an independently created (and funded) source of credible and accurate evidence on the whole of the sub-sector.
And so at the end of 2014, we launched 'Sector Insight' and its accompanying website ArmedForcesCharities.org. The event marked the start of a strategic relationship with DSC that has seen it provide a series of sub-sub-sector reports (Focus On …) and specific surveys. The project is still running and has been used countless times to help policy makers/service providers make good decisions on a range of issues. It's paid for itself many times over, for example being instrumental in securing millions of pounds of Government Covid aid, and ensuring funding (such as Tower Poppies) is applied in the most effective way. My Chair used to carry a copy wherever he went and whenever someone banged on about "blah too many charities .. blah too much reserves .. blah no collaboration" he'd press on them a copy of Sector Insight and instruct the bletherer (often in Westminster) to read it and then speak to Ray.
So that RUSI event was a watershed; but it was also great fun. Sharing a podium with 5' of pure unbounded nuclear energy and seeing the shockwaves spread out across the assembled great and the good was pretty memorable, and for all the right reasons.
#2 – Strategy for our Veterans 2018.
All credit to the MOD, and the incredible Chief of Defence People Richard Nugee; they were tasked with delivering a veterans strategy, and then went to extraordinary lengths to engage in its development. Supported by some far-sighted Civil Servants (a big shout out to Jenna, James and Helen), we concocted an idea that our outgoing Head of policy (Meri Mayhew – now an insightful independent charities consultant) could be seconded into the MOD team to provide a charities sector linkage, and contribution. It worked superbly, and the Strategy although not perfect, was so much the better for Meri's input. I was thrilled that my Trustees agreed this was something FiMT should do, and of course should fund.
But it nearly wasn't so. At an early meeting between MOD and many charity stakeholders, we were going round in circles trying to establish the best framework to build the strategy around. It sounds dull, almost banal, but if you don't get this right, then the final product will be utterly flawed – built on sand (see my first blog on this). As time went on and next appointment reminders started pinging up, the ideas if anything became worse, and positions were becoming entrenched. A pause, and then quietly I suggested to the meeting that perhaps the FiMT outcomes model might be helpful? A quick elevator pitch later, and at last we could agree that it would provide the conceptual foundations for what became a more complex strategy.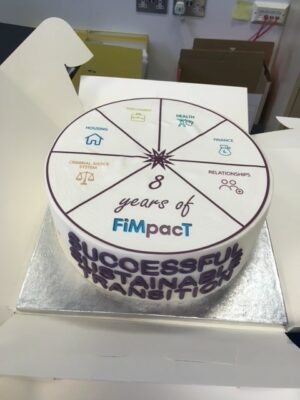 Not a bad return on a bit of Meri's time and a small slice of doctrine.
And so in two different but both very FiMT-y ways, we helped the UK's first Strategy for our Veterans turn out as a useful and well-received document, from which arguably the subsequent Office for Veterans' Affairs has derived its authority, and which the new Minister for Veterans (my sixth and final) told me and my successor last week that it formed the cornerstone of this year's review.
#1 – Transition Mapping Study 2013.
I didn't write the requirement for the Transition Mapping Study – Grahame and Meri did that, but it was obvious that this was going to be the most important piece of work FiMT had yet commissioned. I don't think anyone realized how important it was to become. After many, many meetings with our consultants The Futures Company (now Kantar Futures) we produced the first all-encompassing review of the transition process from military to civilian life. We covered all types of Service leavers and their families; we looked at all aspects of transition, not just employment; we applied sophisticated analysis to identify potential costs and benefits; and we presented this in a way that underlined its credibility, but was highly accessible to everyone interested, from peers to politicians to media.
TMS13 didn't stop with the launch – it started. The event itself received a lot of coverage which helped to bring it to people's attention. But it started a snowball. Transition now had a common lexicon, an agreed series of components, identifiable cohorts, economic and social parameters. It got us onto the top table and made FiMT synonymous with improving transition. It got us into the heart of Lord Ashcroft's review which was a moment of its time and pitched at a truly strategic level. It also led to my dancing with Simon Wessely to a private rendition by Michael Bouble, but perhaps that memory is best left unexplored.
Even in my last week in office I'm still quoting from the Transition Mapping Study. The launch itself wasn't all that memorable, I even had to ring Meri to ask if she could remember where we held it. But every day since that day in August 2013, I've been reminded of the work, its relevance to our mission and to the Armed Forces Community who FiMT will continue to serve after I've gone. And that's why it's the most memorable moment of an incredibly privileged time as the Trust's Chief Executive.
But wait – I think we might have a La La Land Oscars moment. Surely nothing could top the Transition Mapping Study? Well something just did.
Also #1 – Lifting Our Sights
Lifting Our Sights has just parachuted in to claim the 'even better than the best' prize. While everyone else in the sector was fighting Covid's impact, we were busy trying to work out what the next decade (not the next week) would bring. The result of this work, led by Tom, Caroline, Isabel and Gen, and supported by Rodrigo and Louisa, Kirsteen, Clare and Rob, is the most important document I can think of for anyone involved in the Armed Forces Community. It's also, like its illustrious predecessors in our catalogue of work, credible and accessible.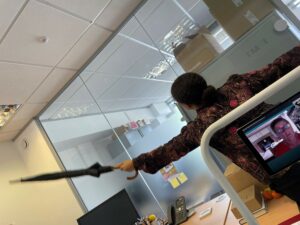 The launch, a Newsnight-style live broadcast, set a new standard of quality production despite some technical challenges (thanks Lousia) and will remain on YouTube for as long it's needed. To my mind, that will be at least 2030 – that is after all less than a decade away, but it's no further than where TMS has traveled from.
So I am going to fudge this and make the Transition Mapping Study and Lifting Our Sights joint winners. Both will live forever in my memory. The gift of Grahame and Meri's hard work on TMS was mine to enjoy, and exploit. The gift of Lifting Our Sights is for my successor Mike to enjoy, and also to exploit to its fullest potential.
I thank everyone for creating these memories, and especially those I haven't mentioned here by name or by deed. Our mission is not yet complete – but my role in it is, and I wish Mike, the Staff and Board of Forces in Mind Trust the very best for the future.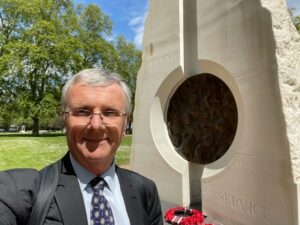 Ray Lock
Former Chief Executive