Professor Jonathan Bisson receives Lord Ashcroft Research Award for novel PTSD treatment method for veterans
We are pleased to announce the winner of the Lord Ashcroft Research Award 2021.
The Forces in Mind Trust (FiMT) Research Centre has announced today (9th February) that Professor Jonathan Bisson has been awarded the 2021 Lord Ashcroft Research Award, in recognition of his work on a novel treatment method for veterans suffering from Post-traumatic Stress Disorder (PTSD).
Professor Bisson was Chief Investigator for a Cardiff University feasibility trial of an innovative treatment method (multi-modular motion-assisted memory desensitisation and reconsolidation – 3MDR) for veterans suffering from PTSD that was resistant to conventional treatment. The project was a UK-first for the use of such technology, and required extensive collaboration between leading academics from the UK and the Netherlands, and Veterans' NHS Wales.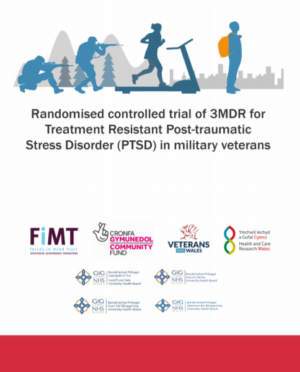 Thanks to the determination and leadership of Professor Bisson and his team, the project received widespread international academic and media coverage. It concluded that 3MDR had been able to reduce PTSD symptoms under certain circumstances, and therefore although it was too early to recommend it for routine clinical practice, it justified and informed the need for a more extensive study that has the potential to confirm this and benefit veterans with the most difficult forms of PTSD to treat.
The Lord Ashcroft Research Award recognises innovation and the potential for future impact in research, and was judged by Lord Ashcroft, Patron of the FiMT Research Centre.
You can read the full report, Randomised controlled trial of 3MDR for Treatment Resistant Post-traumatic Stress Disorder in military veterans, here.
Professor Bisson will give a presentation about his research at the FiMT Research Centre Conference 2021 on Wednesday 24th March. The online free-to-attend conference will focus on the 'Transition of Service People and Families' and is now open for registrations.
The Lord Ashcroft Research Award is one of three awards. The Special Award for FiMpacT has been awarded to Professor Janet Walker OBE and Dr Gabriela Misca for their research on Armed Forces families, and the FiMT Research Award was given to Stuart Cole from the Directory of Social Change (DSC) in recognition of his support for the Armed Forces Charities sector. They will join Professor Bisson in presenting at the FiMT Research Centre Conference.
Ray Lock CBE, Chief Executive of Forces in Mind Trust, said:
"Professor Bisson's impressive research found that 3MDR can be an effective treatment. Even more important than the research itself, is the impact it will ultimately have on improving the psychological wellbeing of the ex-Service community. We are delighted to present him with this award in recognition of the groundbreaking research he has led, and the remarkable impact it could have on the small number of ex-Service personnel who suffer from treatment-resistant PTSD."
Lord Ashcroft KCMG PC, Patron of the FiMT Research Centre, said:
"I am delighted and honoured to be the sponsor of this award and my warm congratulations go to Professor Jonathan Bisson on his wonderful achievements.
"It was while working as the Prime Minister's Special Representative for Veterans' Transition for six years until 2018 that I became aware of just how many former servicemen and women suffer from PTSD and the terrible effect it has on so many lives. I am thrilled that innovative and effective ways are being found to combat PTSD among military veterans. My priority is to recognise research that translates into direct action, and the work by Professor Bisson does just that. I commend him for it."
Professor Bisson said:
"It is an honour and a privilege to have been recognised in this way.  I am very grateful to Lord Ashcroft for the award, FiMT for funding our work, the fantastic 3MDR research team and to everyone involved with the 3MDR study.  Most of all I would like to thank the participants for taking part and allowing us to identify the potential of 3MDR as a treatment for people with PTSD in the future."
-Ends-
Notes to Editors
About Forces in Mint Trust (FiMT):
Forces in Mind Trust was founded in November 2011 by a £35 million endowment from the Big Lottery Fund (now The National Lottery Community Fund). As a member of Cobseo – the Confederation of Service Charities and a permanent member of its Executive Committee, the Trust works within the Armed Forces charities sector, and much more widely, to support the UK's Armed Forces Community.
The mission of FiMT is to enable ex-Service personnel and their families to make a successful and sustainable transition to civilian life. FiMT delivers this mission by generating an evidence base that influences and underpins policy making and service delivery, and by strengthening the Armed Forces charities sector through collaboration and leadership, and by building its capacity.
FiMT's grants and commissions are designed to generate sustained change that improves the lives of ex-Service personnel and their families. FiMT awards grants to support its Change Model based on six outcomes: Housing; Employment; Health; Finance; Criminal Justice System and Relationships.
Website: www.fim-trust.org
Reports: www.fim-trust.org/reports/
What we fund:www.fim-trust.org/what-we-fund/
Twitter: @FiMTrust
About Professor Jonathan Bisson
Professor Bisson is a practising psychiatrist and Clinical Professor in Psychiatry at Cardiff University. He is Director of Traumatic Stress Wales and Health for Health Professionals Wales, national initiatives to improve the health and wellbeing of people affected by traumatic events and staff working in NHS Wales.  He developed his interest in post-traumatic stress disorder (PTSD) during his time as a psychiatrist in the Britsh Army.
He has conducted various research studies including six randomised controlled trials and five Cochrane systematic reviews in the traumatic stress field.  He was co-chair of the UK's first PTSD NICE Guideline Development Group and chairs the International Society for Traumatic Stress Studies' Treatment Guidelines Committee.  He developed and continues to lead Cardiff University's Traumatic Stress Research Group.  He developed and was the first director of NHS Veterans' Wales and Health and Care Research Wales.