Stuart Cole wins FiMT Research Award for insights which supported the Armed Forces Charities sector during Covid-19
We are delighted to announce the winner of the 2021 FiMT Research Award.
The Forces in Mind Trust (FiMT) Research Centre has announced today (2nd February) that Stuart Cole has been awarded the 2021 FiMT Research Award, in recognition of his research on Armed Forces Charities and his support for the sector during the Covid-19 pandemic.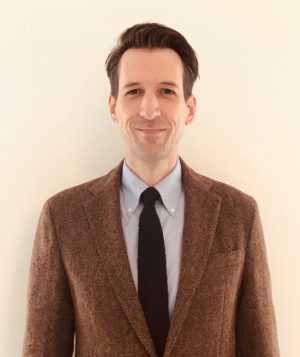 Stuart is Research Development Manager at the Directory of Social Change (DSC), and has received the award for his work leading on the delivery of a series of independent and credible reports on the Armed Forces Charities Sector over six years. The reports have included a comprehensive 'Sector Insight' overview and analysis and a 'Focus On' series, exploring topics such as education and employment, housing and criminal justice. The latest report, Focus On: Families, was published last week. It shows that charities provided at least 89,000 people with a range of family-related support in the year prior to August 2020, spending at least £68.5 million on services those families rely on.
As a result of the research led by Stuart, DSC was able to provide credible evidence of how the sector needed state assistance during the Covid-19 pandemic. The second edition of Sector Insight was complete in Spring 2020, but the national lockdown in response to the Covid-19 pandemic delayed its publication. The research team at DSC, led by Stuart, quickly responded to requests for evidence from Cobseo – the Confederation of Service Charities. They provided an accurate and independent read out of the sector pre-Covid, followed by a series of rapid surveys of Cobseo's member charities. The evidence they provided led to tangible financial and other support, delivered by Government across the UK to the sector.
Stuart will give a presentation about his research at the FiMT Research Centre Conference 2021 on Wednesday 24th March. The online free-to-attend conference will focus on the 'Transition of Service People and Families' and is now open for registrations.
The FiMT Research Award is one of three awards. The Special Award for FiMpacT has been awarded to Professor Janet Walker OBE and Dr Gabriela Misca for their research on Armed Forces families, and the final award winner will be announced next week. They will join Stuart in presenting at the FiMT Research Centre Conference.
Ray Lock CBE, Chief Executive of Forces in Mind Trust, said:
"Over the last six years, Stuart and his team have vastly improved our understanding of the Armed Forces Charities sector, and demonstrated the value of the important services charities provide to the UK Armed Forces community.
"Thousands of copies of the reports on which Stuart led have been downloaded or handed out, reaching the most senior policy makers and service providers in the country. The impact of his work was already widely felt and, when the effects of the Covid-19 pandemic hit the sector, his team stepped up to provide important evidence which led directly to vital support being provided.
"The projects the Directory of Social Change has conducted on our behalf over the years have been absolutely transformational. It has of course been a full team effort, but we are delighted to recognize Stuart's individual achievements with this award, and to have an opportunity to celebrate the impact of his work on our sector."
Stuart Cole said:
"I'm very honoured to receive this award, and on behalf of DSC and my colleagues, I would like to say how pleased we are that our research has helped make the case for directing support to charities providing vital services.
"Throughout the pandemic, the needs of those who rely on support has not gone away, nor has the resolve of charities to meet that need. In the face of increasing demand and decreased resources, armed forces charities continue to serve those who may otherwise face significant difficulty.
"My team and I work to provide accessible evidence to inform decision making and strategic thinking at policy, practitioner, and public levels. We are proud to partner with Forces in Mind Trust in achieving that, and we are honoured to be recognised for it."
-Ends-
Notes to Editors
About Forces in Mint Trust (FiMT):
Forces in Mind Trust was founded in November 2011 by a £35 million endowment from the Big Lottery Fund (now The National Lottery Community Fund). As a member of Cobseo – the Confederation of Service Charities and a permanent member of its Executive Committee, the Trust works within the Armed Forces charities sector, and much more widely, to support the UK's Armed Forces Community.
The mission of FiMT is to enable ex-Service personnel and their families to make a successful and sustainable transition to civilian life. FiMT delivers this mission by generating an evidence base that influences and underpins policy making and service delivery, and by strengthening the Armed Forces charities sector through collaboration and leadership, and by building its capacity.
FiMT's grants and commissions are designed to generate sustained change that improves the lives of ex-Service personnel and their families. FiMT awards grants to support its Change Model based on six outcomes: Housing; Employment; Health; Finance; Criminal Justice System and Relationships.
Website: www.fim-trust.org
Reports: www.fim-trust.org/reports/
What we fund:www.fim-trust.org/what-we-fund/
Twitter: @FiMTrust
About the Directory of Social Change (DSC):
DSC has a vision of an independent voluntary sector at the heart of social change. The activities of independent charities, voluntary organisations and community groups are fundamental to achieve social change. DSC exists to help these organisations and the people who support them to achieve their goals. It does this by:
providing practical tools that organisations and activists need, including online and printed publications, training courses, and conferences on a huge range of topics
acting as a 'concerned citizen' in public policy debates, often on behalf of smaller charities, voluntary organisations and community groups
leading campaigns and stimulating debate on key policy issues that affect those groups
carrying out research and providing information to influence policymakers.
DSC is the leading provider of information and training for the voluntary sector and publishes an extensive range of guides and handbooks covering subjects such as fundraising, management, communication, finance and law. Since 2014, DSC has worked with the Forces in Mind Trust to research and analyse the armed forces charities sector in the UK and has become the foremost expert in this field.
Website:www.dsc.org.uk
Twitter:@DSC_Charity