FiMT Working Together Award finalists revealed
The 2022 Soldiering On Awards FiMT Working Together Award finalists were announced on Armed Forces Day.
The 2022 Soldiering On Awards FiMT Working Together Award finalists have been revealed.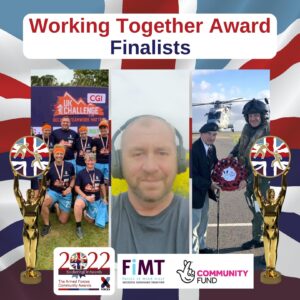 Now into its 12th year, the Soldiering On Awards recognise and celebrate the outstanding achievements of those who have served their country, and the diverse people and groups who work together in support of the Armed Forces Community.
The FiMT Working Together Award was created to recognise an individual, group, team or organisation with a commitment to a collaborative approach. The award highlights the impact that collaboration can have in the Armed Forces sector, and sets an example of best practice for others to follow.
The Finalists for the FiMT Working Together Award are:
You can read more about the finalists here.
Awards Chair, General the Lord Dannatt GCB, CBE, MC, DL and Co-Chair Debra Allcock-Tyler CEO, the Directory of Social Change, led a distinguished panel of judges who chose from an outstanding field of nominations to select 36 shortlisted Finalists.
A private Finalists' reception will be held at the House of Lords on July 4th, hosted by Awards Patron the Rt Hon Earl Howe PC and special guest presenter Jeremy Vine. The winners will be announced at a prestigious Black-Tie event at the Park Plaza Hotel, Westminster Bridge on Thursday 27th October 2022.
Public voting will choose the winners of three incredible categories. The Animal Partnership Award, the Sporting Excellence Award and the Inspiration Award will be decided by an online public vote, each of which will commence for two weeks respectively from the 4th July, 1st August and 29th August. Voting will take place at www.soldieringon.org
Awards Chair, Lord Dannatt said:
"I would like to thank everybody involved with this extremely worthwhile task; the judges who've given their valuable time to select the Finalists and those who selflessly nominated others in the first instance. I would also like to thank those who support the Armed Forces community in the widest sense, whether its charities, businesses, individuals or local authorities. These Awards represent the essence of that community and this year's Finalists are role models for us all."
Awards Patron, the Rt Hon Earl Howe PC said:
"It is an honour to be announcing such outstanding Finalists in this, the Soldiering On Awards 12th year. Each group of Finalists stands on the shoulders of remarkable people who have gone before them, and they are now the worthy holders of this special recognition on behalf of the Armed Forces community. We salute you all!" 
X-Forces Enterprise CEO Lt Col Ren Kapur MBE said:
"The Armed Forces lead the way in demonstrating what it truly means to be a supportive community; both when duty calls and beyond into civilian life. The ethos, values and achievements of each of this year's Finalists are remarkable and they deserve our hearty congratulations to have reached this position amongst so much worthy competition."
Other Soldiering On Awards Finalists
Healthcare & Rehabilitation Award – Sponsored by Redwood Technologies Group
Help for Heroes Clinical & Medical Services Team (Salisbury, Wiltshire)
Jason Stevens (Tonbridge, Kent)
We are with you (London)
Education, Training and Development Award – Sponsored by Capita
Building Heroes (Crawley, Sussex)
Dr Alison Baverstock (London)
Bravo 22 Company (London)
Defence Inclusivity Award – Sponsored by Landmarc
Natasha Day (London)
Lt Col Gilly Moncur (Highlands of Scotland)
Lieutenant Commander Suzanne Lynch (South Wales)
Inspiration Award – Sponsored by NatWest (Public Vote)
Mark Bowra MBE (Dorset)
Sip Powers (North Yorkshire)
Gina Allsop (Sussex)
Family Values – Sponsored by Amazon
Seren Killpartrick (Surrey)
Mutual Support – The Armed Forces Multiple Sclerosis Support Group (National Group)
Justine Clayton & Lee Bayley – DMWS Removing Barriers to Family Life Team (Herefordshire)
Animal Partnership Award – Sponsored by Pets at Home (Public Vote)
Service Dogs UK (Huddersfield, West Yorkshire)
Stable Lives (Wigan, Lancashire)
Richard Mearns and Assistance Dog Ziggy (London)
Sporting Excellence Award – Sponsored by BMF Human Performance (Public Vote)
Sally Orange (Salisbury, Wiltshire)
Mark Tonner (Catterick, North Yorkshire)
Corporal Thomas Green (Hampshire)
Business of the Year – Start Up Award – Sponsored by GKN Aerospace
Craig Smith – NDA Homes (Staffordshire/Cheshire)
Murray Hambro – Whitehart Fitness (Worthing, Sussex)
Helen Mason – Jammy10 Cocktail Club (Trowbridge, Wiltshire)
Business of the Year – Scale Up Award – Supported by London Stock Exchange Group Foundation
Lee Harris-Hamer – White Horse Cleaning Company (Thirsk, North Yorkshire)
Lee Jones – Celtic International Freight Limited (Swansea, Wales)
Craig Warren – Rex Cleaning and Maintenance (Hoddesdon, Hertfordshire)
Business of the Year – Community Impact Award – Sponsored by Cisco
Scotland's Bravest Manufacturing Company (Bishopton, Renfrewshire)
Ger Fowler – Veterans In Crisis CIC (Sunderland)
Shane Glasspool – Crimsham Farm CIC (Pagham, West Sussex)
Lifetime Achievement Award – Sponsored by Oracle
Jeffrey Long MBE (Bradford, West Yorkshire)
Sip Powers (North Yorkshire)
James Griffiths MBE (Herefordshire)