FiMT awards interim funding to help veterans find employment in the construction industry
FiMT is providing interim funding to BuildForce, a CIC which assists ex-Service personnel to transition to careers in the construction sector.
20th October 2020 – Today, Forces in Mind Trust (FiMT) announced it is providing interim funding to BuildForce, a CIC which assists ex-Service personnel to transition to careers in the construction sector. Following the loss of funding for their veteran programme due to Covid-19, FiMT has agreed to provide interim funding of £40,000 to the project over three months in recognition of its particular fit and relevance to FiMT's Employment Programme.
BuildForce, a UK-wide alliance of employers, industry bodies and charities, sought the funding from FiMT for its veteran programme, which aims to support the successful transition of Service leavers into the construction industry.
During the Covid-19 pandemic, the Buildforce team have adapted their delivery model in line with the changing needs and requirements of veterans, and focusing their efforts online. This has included virtual 'career chats' led by veterans in industry sharing insights into their transition and current role with a live audience, virtual mental health sessions which have seen an increased demand during the pandemic, and creating veteran support videos.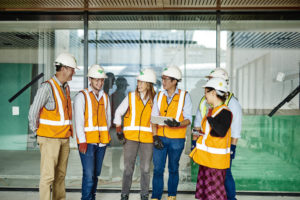 The funding from FiMT will ensure that veterans already registered on the programme are able to complete the process, in addition to ensuring access to support for those registering now. More than a hundred veterans are currently progressing through the BuildForce programme, including those receiving mentoring and training and mental health support, and veterans who have secured employment and require support during their transition period.
FiMT has made this award under its Employment programme, which aims to achieve a better understanding amongst employers of the transferable skills and experience that ex-Service personnel offer, and to challenge the negative stereotypes which are still widespread and detrimental to the employment prospects of ex-Service personnel.
Ray Lock CBE, Chief Executive of FiMT said:
"Many military charities and supporters are struggling to continue to fund vital services due to the ongoing Covid-19 pandemic. We have been working with BuildForce for some time now to improve access to the construction industry, and we recognize that their offer can be life changing, providing opportunities for veterans and communicating to employers the valuable skills and experiences of those who have served in the Armed Forces.
"As set out in our Employment policy statement, we believe that no ex-Service person should be disadvantaged in achieving successful employment. Progress is being made, and part of the solution is to leverage catalyzers within specific sector bodies – such as Step into Health, Mission Motorsport, High Ground or TechVets.  But employers are still missing out on the benefits of hiring Service leavers – many of whom bring with them skills that are highly sought after, in this case by the construction industry. We are pleased to be supporting BuildForce's important work in this area, creating opportunities both for our country and for those who have served it. But this is only interim funding, and we look forward to the industry being able to renew its commitment next year."
Angela Forbes, BuildForce chair added:
"We are delighted to be supported by FiMT during the unprecedented times of the pandemic. Whilst BuildForce is making huge strides in industry, both raising the profile of our ex-Services personnel and supporting them secure long-term careers, there is still a lot of work to do.
"The UK is transitioning itself through significant challenges of Covid-19 and Brexit, with huge growth expected.  This is an opportune moment, to really push the agenda of ex-Service employment and equally support our veterans translate their skills and realise their worth.
"We are excited to be on board with FiMT and further support our veterans."
– Ends –
About Forces in Mind Trust:
Forces in Mind Trust was founded in November 2011 by a £35 million endowment from the Big Lottery Fund (now The National Lottery Community Fund).  As a member of Cobseo – the Confederation of Service Charities and a permanent member of its Executive Committee, the Trust works within the Armed Forces charities sector, and much more widely, to support the UK's Armed Forces Community.
The mission of FiMT is to enable ex-Service personnel and their families to make a successful and sustainable transition to civilian life. FiMT delivers this mission by generating an evidence base that influences and underpins policy making and service delivery, and by strengthening the Armed Forces charities sector through collaboration and leadership, and by building its capacity.
FiMT's grants and commissions are designed to generate sustained change that improves the lives of ex-Service personnel and their families. FiMT awards grants to support its Change Model based on seven outcomes: Housing; Employment; Health; Finance; Criminal Justice System; Relationships; and its Enabler programme.  You can read FiMT's Policy statement on Employment here.
Website: www.fim-trust.org
Twitter: @FiMTrust
About BuildForce:
Originally launched in 2011, BuildForce is an industry lead programme created by Lendlease, Wilson James, HS2's EKFB, Ernst Young and Morgan Sindall. The training and employment programme for ex-Service personnel, addresses the skills gaps, labour shortages and lack of diversity in construction.
BuildForce is nationwide and offers a compliment of services focused on industry, LED and well-being. Centered around a unique career programme with access to industry via mentoring, work placements, site visits and job roles. The University College of Estate Management modules offer certification and a place on a degree course for onward learning. Whilst mental health, wellbeing and stress management support is provided throughout.
The vision for BuildForce is to inspire and enable ex-Service personnel to pursue long-term careers in construction whilst supporting industry to attract, retain and grow this incredible talent pool.
www.BuildForce.org.uk | LinkedIn | Facebook | @build_force