New report finds employers struggle to recognise and access the skills of ex-Service personnel
A new report has found that ex-Service personnel often fail to communicate their skills and experience, while employers struggle to reach the ex-Service Community and are missing out on a valuable labour source. 
22 October 2020 – A new report has found that ex-Service personnel often fail to communicate their skills and experience when seeking employment. Meanwhile, employers struggle to reach the ex-Service Community and, as a consequence, are missing out on a valuable labour source with the skillsets they require.
The research from GoodPeople, funded by Forces in Mind Trust (FiMT), took place before the Covid-19 pandemic, when employment was at a record high. Notwithstanding the current reverse of this trend, the findings bear close examination, given the UK's future recovery relies on improved productivity and a better performing labour market.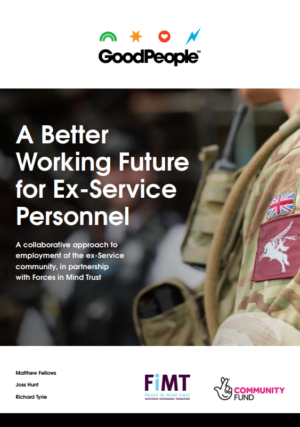 While the report confirmed that ex-Service personnel can perform well in commercial roles and their skills match those needed by employers, it also suggests that employers are struggling to reach this community – particularly Small and Medium Enterprises (SMEs). The researchers reported a considerable gap in military-commercial skills translation, with the traditional CV-based recruitment system often failing to communicate the skills and experience ex-Service personnel bring to businesses. 36 per cent of employers found it difficult to identify and understand transferable skills gained from the military in CVs and application forms from ex-Service personnel. There was, however, a clear interest from employers in hiring more ex-Service personnel. Of the 89 SME employers surveyed and interviewed in the Solent area, 74 per cent identified an organisational desire to access and hire from the ex-Service community. As a result, the report recommends future employment solutions are market led, focused on achieving better quality skills translation and matching, and collaborative, to ensure SME employers are able to access the ex-Service labour force more effectively.
Other recommendations include improved networking, mentoring, advice and support from the business community, as well as greater access to work experience, internships and apprenticeships for ex-Service personnel.
The findings have implications for the challenges ex-Service personnel will face in a post-Covid-19 employment market. The report identified the challenges faced by ex-Service personnel when the labour market was still buoyant. It is anticipated that these will be exacerbated by the impact of Covid-19. As a result, GoodPeople concluded that employers, policymakers, civil society and local communities should work together to benefit both ex-Service personnel and SME employers.
The report is based on a six-month study and feasibility assessment of an innovative new pilot, aimed at improving employment outcomes for ex-Service personnel and their partners. The project was focussed in the Solent area, working with the ex-Service community and employers to better understand the employment challenges facing both the veteran community and SMEs seeking to access them.
Despite the challenges identified, the findings highlight an important opportunity for the ex-Service community, as acute skills shortages, wider labour market challenges and an increased interest in employing ex-Service personnel were all identified by the research. The skills which Service leavers are likely to have are particularly in demand for businesses generally, and both veterans and SMEs would benefit from taking forward some of the findings highlighted by the report.
Ray Lock CBE, Chief Executive of Forces in Mind Trust, said:
"At the heart of this project is a desire to deliver fulfilling employment to the ex-Service community, to the benefit of the business community. We can see that there is an appetite amongst employers to access the ex-Service labour market, but more needs to be done to help individuals communicate the skills they gained during service and their value to a commercial employer. The implications are significant; GoodPeople have identified that employers are missing out on valuable skills and experience, and we know that difficulty finding work can have a knock-on effect for ex-Service personnel, affecting health and wellbeing, relationships and personal finances.
"Although many of the recommendations in this report aren't new, the findings provide important evidence, which is particularly timely as we see the troubling effects of Covid-19 on employment rates. And the radical view that the CV is no longer fit for purpose as a recruiting tool warrants the attention of all involved in the employment market, where this must surely be the time to innovate. Policymakers and employers should now act on these recommendations to ensure that ex-Service personnel are not left behind."
Richard Tyrie, CEO of GoodPeople, said:
"Our research proves that veterans have a host of transferable skills that are highly prized by employers, but especially SMEs and micro-businesses, a sector that is likely to be the future engine of economic growth and job creation in the UK.
"In a rapidly changing jobs market and record levels of unemployment, we need to do more to help connect former service men and women with SME employers and their jobs, and argue the case for the ex-forces community being able to provide the high value skills that are vital in driving productivity and growth for the UK economy.
"Hiring from the ex-services community is not only good for business, it's the right thing to do for those that have served our country – but more needs to be done to close the gap that exists.  Hopefully this research is that start of a new conversation about the value that ex-Service men and women can play in our economic recovery"
Download the full report and executive summary here.
-Ends-
Notes to editors
About the research:
The research consisted of consultations, surveys and interviews with employers, ex-Service personnel and their partners. GoodPeople also undertook an analysis of current methods of military-commercial skills translation in the UK.
About Forces in Mind Trust:
Forces in Mind Trust was founded in November 2011 by a £35 million endowment from the Big Lottery Fund (now The National Lottery Community Fund).  As a member of Cobseo – the Confederation of Service Charities and a permanent member of its Executive Committee, the Trust works within the Armed Forces charities sector, and much more widely, to support the UK's Armed Forces Community.
The mission of FiMT is to enable ex-Service personnel and their families to make a successful and sustainable transition to civilian life. FiMT delivers this mission by generating an evidence base that influences and underpins policy making and service delivery, and by strengthening the Armed Forces charities sector through collaboration and leadership, and by building its capacity.
FiMT's grants and commissions are designed to generate sustained change that improves the lives of ex-Service personnel and their families. FiMT awards grants to support its Change Model based on seven outcomes: Housing; Employment; Health; Finance; Criminal Justice System; Relationships; and its Enabler programme.
Website: www.fim-trust.org
Twitter: @FiMTrust