Mike Ellicock steps down as Chief Executive of Forces in Mind Trust; Tom McBarnet appointed at Acting Chief Executive.
An update from Forces in Mind Trust:
Mike Ellicock will be leaving Forces in Mind Trust at the end of June 2022 to focus on growing Plain Numbers, a startup he founded in late 2020. Tom McBarnet, FiMT's Director of Programmes, has been appointed Acting Chief Executive and will take over from Mike on 20th June.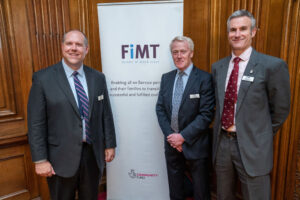 Mike Ellicock said:
"I am grateful to have had the opportunity to lead this fantastic organisation for the past year. I have seen the significant impact that FiMT is making, have been proud to play a small part in that and have no doubt that the small but expert staff team will continue to do great work under Tom's leadership. I am sorry to leave so soon; it was a difficult decision to make and is all about the opportunity to maximise the impact of Plain Numbers, now it is starting to take off.  
I would like to thank the Chairman and the Directors at Forces in Mind Trust for appointing me and their ongoing support for FiMT's work and to thank the staff for their hard work over the past year and a bit. I am keen to continue to support the Armed Forces Community alongside my work at Plain Numbers in the coming years."
Hans Pung, Forces in Mind Trust's Chair, said:
"The Board of Directors would like to thank Mike for his time at Forces in Mind Trust and for everything he achieved in his time as Chief Executive. The FiMT staff team, now led by Tom McBarnet, our capable and knowledgeable Director of Programmes, will continue to do all they can to enable Service leavers and their families to make a successful, and sustainable transition. We wish Mike all the best at Plain Numbers and look forward to continuing to build on the work he did whilst at Forces in Mind Trust."